As a part of the Mozilla DevDay in Prague this Friday we will hold a Mini Open Web Camp at the afternoon.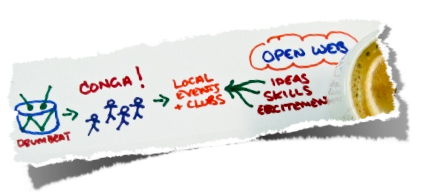 The idea is to use the energy of DevDay participants to get their feedback on the major issues we're currently addressing with Mozilla project.
We have a room booked, and we hope to attract all algorithmically impaired people (the others will probably go to Mozilla Labs Hack Session) to join us for a two hour brainstorm.
The formula may change, but currently we're planning to set a list of topics and go over them with Mark Surman (ED in Mozilla Foundation) and Tristan Nitot (President of Mozilla Europe) igniting each of them by having a short conversation in front of the public. At some point, we're turning it into a round table and invite participants to share their views and address the concerns.
The meeting will probably be small enough to gain an atmosphere of teamwork and I hope it'll be a great journey over the current challenges of the Internet and an opportunity to make an impact on how those might be solved!
Please, do not hesitate to register, and join us there 🙂