For last two months I have been working on a project that has been in my mind for over 4 years now.
Originally, the idea of what we called a Community Pack appeared during Mozilla Europe Board of Directors discussions between me and Pascal and the first notes drafted by us are located at old MoEu wiki.
Today I'm proud to announce the wiki that one day may become an official community/contribution website for Mozilla. It's very early in the game, the theme is just something I crafted temporarily, the name has not been decided yet, the structure of the categories may change.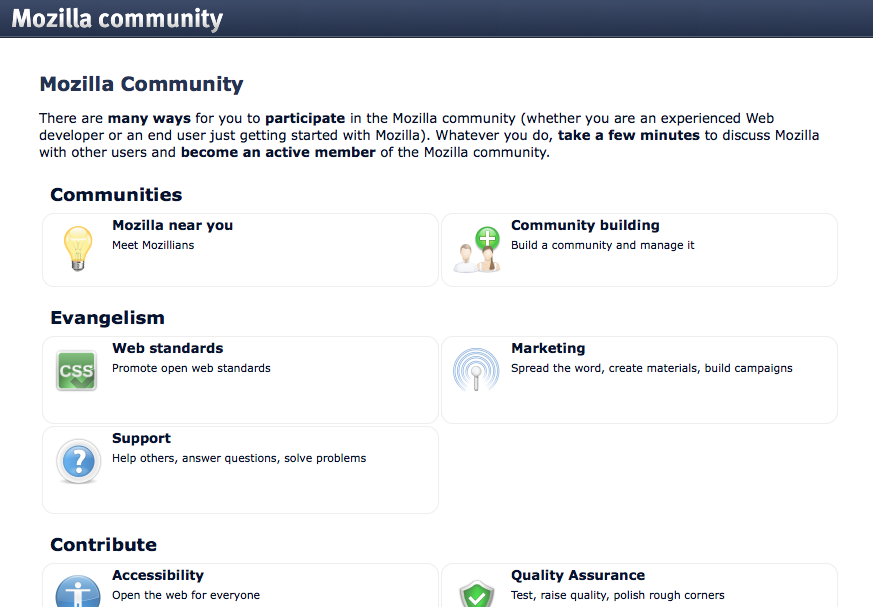 What is there, is an idea with a groundwork already started. The purpose for the website is to help new contributors learn about various activities inside our project and smooth the learning curve.
Beside, the wiki should help people create their own communities, improve community-2-community experience and knowledge exchange. We will try to help smaller communities learn what mature communities know, share the materials we have and address the potential that lies in strong, independent communities existing inside the Mozilla project.
The wiki will not duplicate any material that exists anywhere. It will serve as a kind of roadsign to all the various materials in different places. Wiki.mozilla.org, MDC, SUMO, QMO, SpreadFirefox and others. It's a Wiki because we want to b
e able to add content in cases where we don't have where to link to.
The structure of the main page represents the activities that are part of Mozilla, not projects because people who are new to Mozilla don't know the names of the projects, but will be able to select the activity they're interested in.
The temporary URL to the front view of the Wiki is http://como.labs.braniecki.net/ but it'll of course be moved to Mozilla servers pretty soon.
The back end, for editing is http://como-edit.labs.braniecki.net/.
It's not a perfect solution, but I had no time to work on the skin to make it present all the UI of MediaWiki, especially the theme will be reviewed to m
atch Mozilla sites guidelines.
What now? Well… it's up to you! First, do you like it? Do you think it may be useful? We want to grow this roadsign, so we want to add urls to your community websites there, to all resources inside Mozilla, and add content in the places where its missing. The one section that requires a lot of work is Community building.
If you are interested in helping, just create an account and start editing! Don't be afraid of changing thing, we'll review them.
I will be working on adding content to missing pages, since I'd like all main "category" pages to look at list like Accessibility or Localization. In the next weeks I will be also working on Mozilla customized web tools and Community Website Theme that will help you create new community websites. 🙂