The third part of this summary focuses on Hungary. (part 1 – Poland, part 2 – Czech Republic, part 4 – Lithuania, part 5 – Ukraine)
---

Population: 10 mln
Internet users: 3 mln (30%)
Hungary is similar in size to Czech Republic, but has fewer Internet users (ratio is similar to Poland – 30%). Usually in Eastern Europe, the lower level of the Internet connection saturation means that the market is yet waiting for it's boom, and it's about to begin. Hungary and Poland are both members of European Union, and in both cases the reason for such a low Internet penetration is connection price. In Poland for 512 Kb (Neostrada TP), I pay the price that in UK people pay for 8 Mb (BT Total Broadband). With the open market, we're facing the prices to go down and I expect it'll unblock the boom this year.
Hungary has it's community HQ located at mozilla.fsf.hu.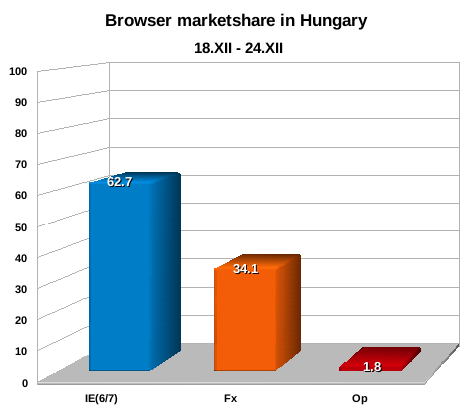 Back to numbers.
Hungary is yet another good news for Mozilla, with over 34% of the market share owned by Firefox and less than 2/3rd by IE.
Overall, Gecko has 34.9% and IE 62.9%, which places Hungary in between Poland and Czech Rep. in terms of Firefox adoption, which confirms the results from XiTi monitor.