The fourth part of this summary focuses on Lithuania. (part 1 – Poland, part 2 – Czech Republic, part 3 – Hungary, part 5 – Ukraine)
---

Population: 3.4 mln
Internet users: 1.3 mln (36%)
Lithuania is the smallest of the countries from the group. Just 3.4 mln people,  but the country has a very long history. Constituted as a kingdom in 13th century, for a few ages in union with Poland (of course the borders were in totally different places back then), later – it was behind the Iron Curtain, together with all other countries I'm writing about in this summary.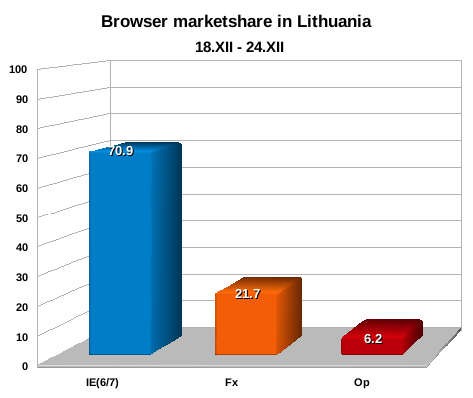 And here we have first differences.
Over 70% of IE's market share is pretty much if you compare it to the rest of Central/Eastern Europe. Also rather low adoption of Firefox is interesting.
The reason for this is that the first Firefox localized to Lithuanian has been released in June 2006 and it was Firefox 1.5.0.4. For 1,5 year after the 1.0 release, Lithuania had no localized version and currently has approximately 1/3rd less market share than the other countries from the region.
You can also notice significant market share of Opera and I also believe that it's the result of late entrance of Firefox to the Lithuanian market.
I'll try to prove that later.
Now, let's take a look at more detailed chart of browsers versions:
As with previous countries, the good news is that IE6 has dropped below 50%.
But what we can observe here is abnormally low Firefox adoption, and so far the highest adoption of Opera 9.
Can we build a theory that in countries where Firefox did not provide greatest user experience (through localization) users started abandoning IE nevertheless?
It seems so. And it seems that Opera is a beneficent of such situation.
But does it mean that Opera is gaining more users because of the fact that Firefox is relatively new for Lithuanian users?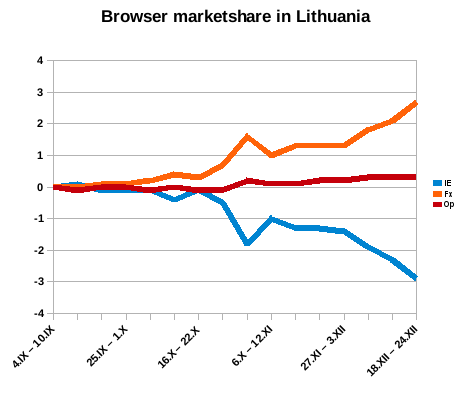 It seems it doesn't! During last 4 months the browsers trend lines were changing linearly only for Firefox and IE here.
Firefox got up by 2.7%, IE has lost 2.9%, while at the same time Opera has gained only 0.3%.
So if I'm right, and the current Opera high and Firefox low market share in Lithuania is related to the late localization case, it's definitely not influencing current trends at all.
What we see is very much the same as in Poland, Czech Republic and Hungary.
It means that when users finally get their Firefox in their language, it easily becomes the browser of choice for those who want to get rid of IE.
Of course one case is not enough to build global conclusions, but I believe that it's very interesting case that we can use until we find more data from countries with similar situation regarding late localization.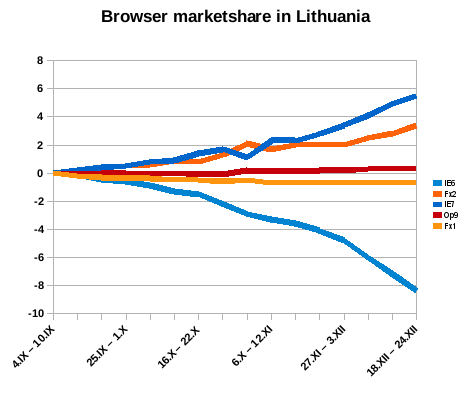 This chart is pretty normal. Users are migrating to IE7 and Firefox 2. IE7 didn't stop upward trend of Firefox, neither it slowed it down.
Nothing to see here, let's move on.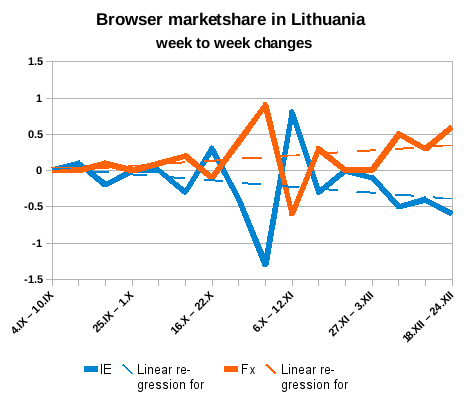 Also the last chart – a week to week one – is encouraging. While the migration rate is not high here, it's growing. It seems that in each and every country we analyzed so far, the speed of IE to Firefox migration is growing.
Even in a country, where only one year ago Firefox had just 11.8% of the market share, today we see the very same trends as in the other countries of the region.
The bottom line is that the Lithuanian market is right now in a very similar situation to Poland, Czech Republic or Hungary, but suffered a lot from late localization.
So, what I wanted to show you here, besides the basic info about the market share situation in Lithuania, is an example of how the lack of localization for Firefox 1.0 and Firefox 1.5.0.0 can impact the market share difference.
In the next part, we're going to see another example of this impact. Stay tuned 🙂